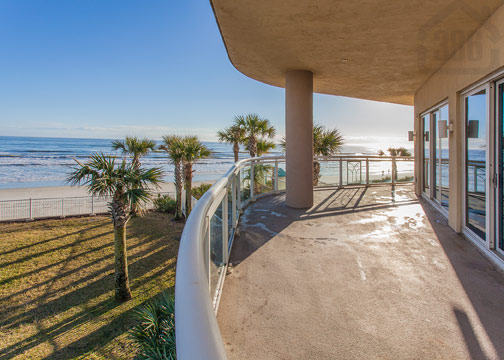 Ocean Vistas offers some of the largest balconies in the Daytona Beach area which allows you more opportunity for breathtaking beach views, grilling out, and relaxing at your luxurious condo. Here you no longer have to settle for cheap and dainty outdoor furniture but rather you will enjoy the spaciousness to bring in large, comfortable chairs and tables where you can entertain friends and family. Below we will outline approximate balcony sizes by floor plan so that you can decide which stunning Ocean Vistas condo will best suit your needs.
Approximate Balcony Square Footage
Amelia Units: 430 sq. ft.
Carmel Units: 700 sq. ft.
Catalina Units: 420 sq. ft.
Laguna Units: 600 sq. ft.
Malibu Units: 420 sq. ft.
Monterey Units: 400 sq. ft.
Santa Monica Units: 350 sq. ft.
Call Kevin Kling at (386) 527-8577 to learn more about the Ocean Vistas condo building or to schedule a showing of one of these luxurious Daytona Beach Shores condos up for sale.