Daytona Beach area condo sales have increased steadily in the first quarter of 2015 as more people discover the tremendous value found along the World's Most Famous Beach. No other Florida beach town offers the level of affordable luxury found in Daytona Beach Shores. And while there are many well-priced condos for sale currently, the larger demand has drawn sale prices higher, with quality offerings spending much less time on the market. In Daytona Beach Shores, condo sales have increased while days-on-market have decreased over the past two years. Kevin Kling has also found condo sale success so far this year with 14 closed condo sales and an additional five properties under contract. Let's take a closer look at Daytona Beach Shores condo sales through the first quarter of 2015.
Daytona Beach Shores closed 63 condo sales in the first quarter of 2015, up four from last year. Though this was not a significant increase, the average sale price rose by more than 5% over this same period with average days on market decreasing by more than two months! So far this year, Kevin's average sale price on closed sales of Daytona Beach Shores condos is $160,000 more than the market average.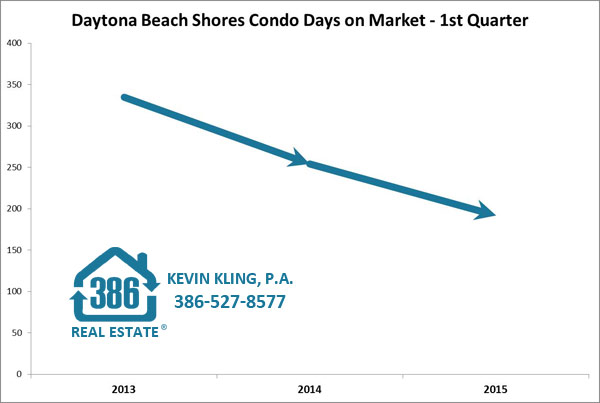 Though not many Ocean Vistas condos have sold this year, you can see that the condo market is quite strong in Central Florida. If you are considering the sale of you Ocean Vistas condo, call Kevin at (386) 527-8577 for a free, updated market evaluation of your luxury property. We are ready to help you find real estate success in 2015!